Search Engine Optimization (SEO) is a technique used to increase the number of organic visits to the website and improve the keywords ranking on search engine results such as Google, Bing, Yahoo etc.
The SEO environment keeps evolving constantly. Our team of experts at Griffon Webstudios stay up to date with all the industry trends and Google algorithm updates to continuously improve the performance of your website to rank high on search engines.
Every business has a different requirement, so we carefully review your brand presence, discuss with you on the goals and develop a strategy that fits your business instead of going the cookie-cutter way.
With our team of experts, we can get your website to rank high on Google. This will lead to increase in website traffic, user engagement, trust in your brand, leads, revenue and conversion rate. Our personalized strategies can help any type of business grow and reach its full potential.
More than 80% of website traffic begin with a search query. If you are serious about taking your business to the next level, you need to optimize the website to be search engine friendly.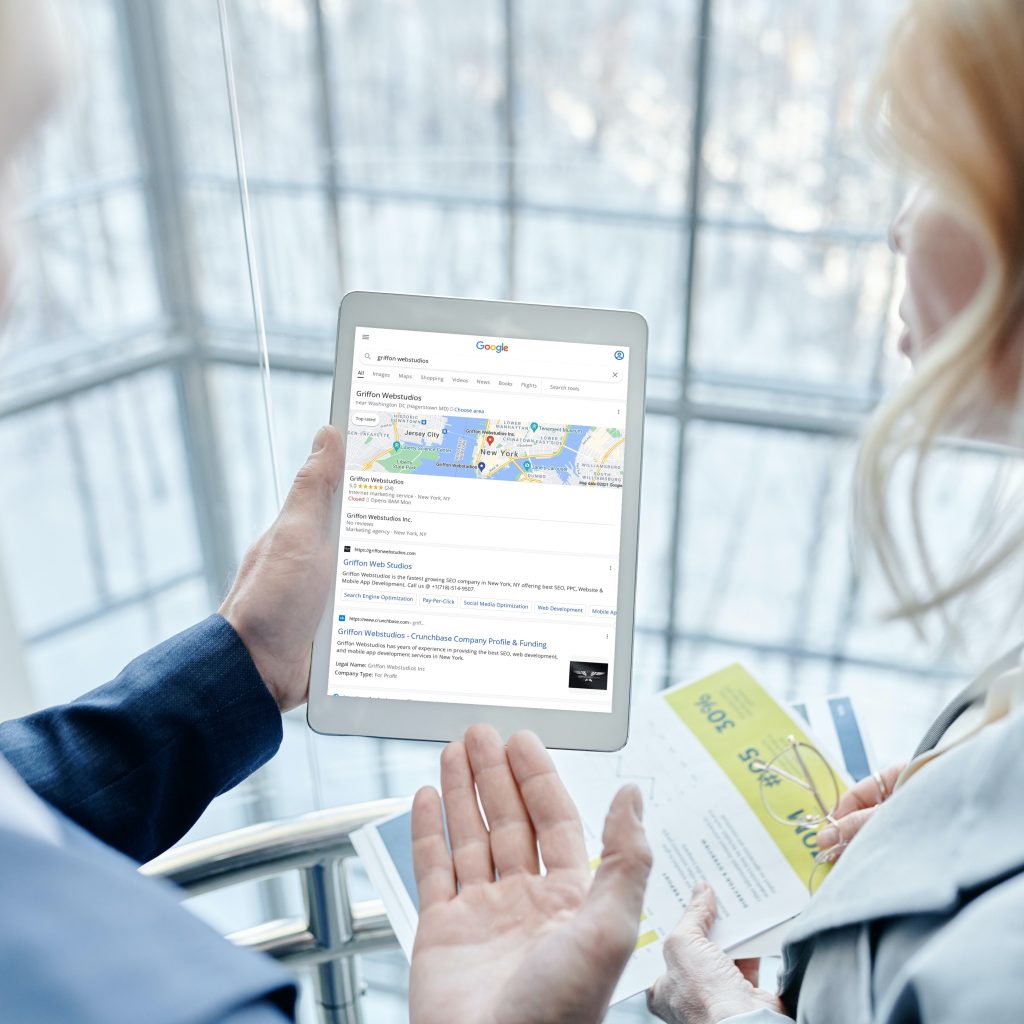 Optimizing your website for the search not only create better visibility to your audience, but it also strengthens your brand. We make the tools and measurements to empower your business decisions by leveraging SEO to acquire business intelligence. By tracking and observing your user behavior on analytics, you better understand what diversified products and services will best grow your company.
We use a combination of a 6-step strategy to make sure that your business will get the most visibility on the search.
Keyword Research
Keyword research is essential to getting your website rank high in search engines. We use key phrases that people are searching for and use it to your advantage by placing the correct wordings on your website.
Competitor Analysis
This is where we look at the strengths and weaknesses in your competition. This can reveal ways to outperform them and make sure your product exceeds the industry standard.
On-Page and Off-Page Analysis
An on-page analysis is improving the site itself with SEO optimization. An off-page analysis is anything done off the webpage such as backlinks, comments or blog posts on other websites.
Content Marketing
Content marketing is the strategic approach to distributing content to your target audience online. This will build quality customers who are more likely to purchase your products or services.
High Quality Backlinks
Backlinks are links to your website that are displayed on other sites. Making sure that these sites relate to your product/service and have high traffic is the key to having quality backlinks.
Analytics & Reports
Analytics is important to understand the traffic patterns, source of the website visitors and other insights to develop the right strategy.