While some swear by using social media as their primary ad service, there is still extreme value in leveraging Google Ads to deliver quality messages to the target clients you want the most. The good news is that conducting a PPC review of your Google Ads campaign isn't like opening a locked black box. All it takes is consistency and quality testing, and you could be experiencing a massive ROI for your ad spend.
The best way to get involved with Google Ads is to utilize the expertise of a company like Griffon Webstudios, a proud member of the Google Partners program. This means that Griffon has continued to meet the stringent requirements of certification, ad spend, and performance from Google.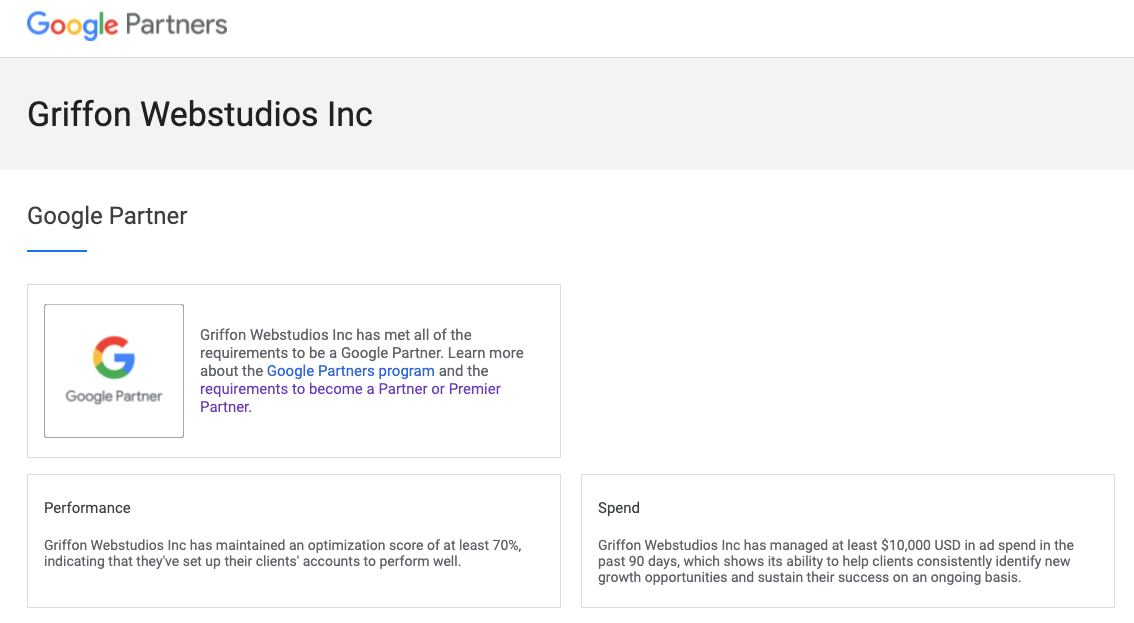 To give you an idea, here are some simple tips to improve your Google Ad metrics from an agency with the knowledge, experience, and success in optimizing campaigns for successful results.
1- Start with Your Landing Page
It may seem counterintuitive, but the amount of clients and businesses that do not have a functional flow on their landing page that delivers the who, what, why, and value proposition of whatever they are selling is astounding. You could have the best framed Google Ad campaign in the world, but if you don't have a solid landing page to close the sale, you'll never get the numbers you want.
2- Don't Forget Negative Keywords
When you are streamlining the tags and keywords you're using for your ads, be sure to include negative keywords. You are actively informing Google what your product is not. This prevents your ads from running with searches that are not relevant to the target market you're trying to reach. Most of the work of improving PPC review involves optimizing the keywords.
3- Testing is Essential
Google Ads are a great way to test different keyword phrases, titles, tags, and page descriptions for what is the most relevant. Don't be afraid to get in the ring a bit and spread your spending over a few different campaigns until you find the ones that deliver the highest return for your ad spend.
4- Use the Whole Ad
Expanded Text Ads (ETAs) matter a great deal to the Google Ads ecosystem. They provide your PPC review with an excellent way to craft a brand or product story that informs the client about all the details that may make the difference between a sale and passive interest. If you want your ads to appeal with more life from the text, be sure to use the entire ETA space with all the relevant information possible.
5- Local, Local, Local
We cannot stress this enough – the only good certified Google Partners to work with are the ones that understand the value in local SEO and geotagging. Google loves to give preferential treatment to a business providing products or services within the same geographic area of the consumer conducting the search. Leverage your local SEO at every turn.
Need More Help?
Running a successful Google Ads campaign takes a lot of experience and work. It means understanding the subtle nuances that can make the difference between outstanding success and another round of poor turnout. That is why working with our team at Griffon Webstudios is so beneficial.
We are a Google Partner certified agency that has managed hundreds of ad campaigns, driving more than $4 million in revenue for our business clients. Send us a note through our contact page to get started with our team. We are always looking to build new relationships and grow our client base.