One of the most popular online sites for people to search for content and shopping is Google. It has a repository of millions of brands that showcase their products and services online, making it easier for you to go forth and purchase. However, as sellers, you need to understand what Google Shopping ads are involved with and what can be done to shape the online ads.
With that in mind, we've broken down Google Shopping ads so that you find it easier to go forth and create ads on the platform.
What are Google Shopping Ads?
Google Shopping ads include a slew of rich information so that the customer can receive everything they need before considering a purchase. We mean things like the product image, merchant name, price, and more by rich information. 
This information is collated and created using the data attributes taken about the product that can be entered. The report can be entered in the Merchant Center and shown to those already looking for the products you're advertising.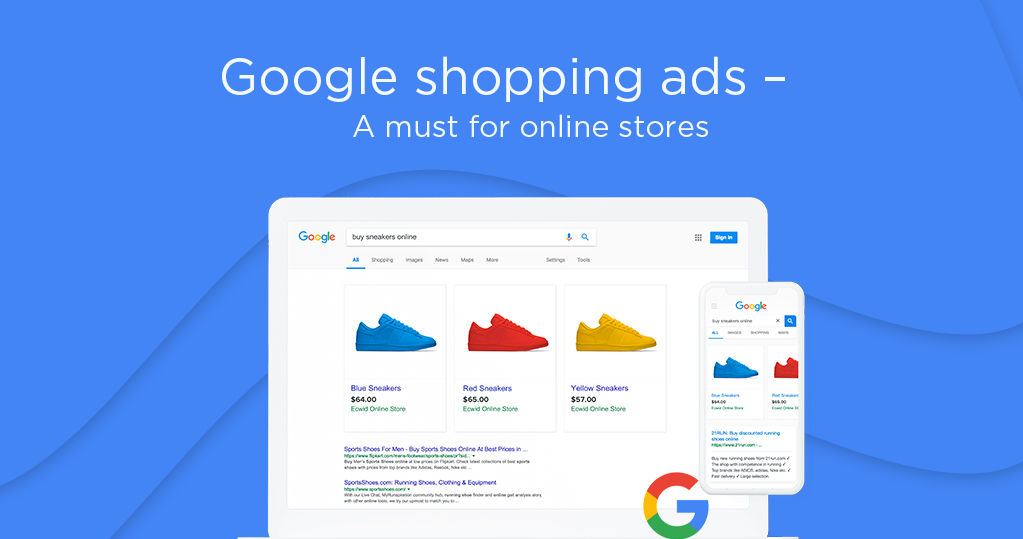 The ad content can be easily customized based on your requirements, and you can set the pricing and budget that works best for you. The ads can also be measured easily, with the impact understood via advanced reporting and performance tools available on the backend. 
Advantages of Google Shopping Ads
Google Shopping makes the shopping experience much simpler and streamlined for its users. It comes with a slew of benefits that can make eCommerce shopping much simpler for users online:
Qualified traffic
With Google Shopping, you can receive more qualified traffic, similar to a normal Google Search Text ad. You're only paying if someone clicks on your ads and the text ads are difficult because it needs to be super appealing within a few characters. You need to try and attract many qualified clicks via the site. You won't have to pay for irrelevant clicks, and this is one of the biggest advantages.
When you have an eCommerce store, you need to ensure that you're only paying for the clicks you want. When someone is searching for your product, they can see the product title, image, price, and other information such as shipping and promotional info. It also shows up next to other similar products.
This means that whenever someone clicks on a shopping ad, they're at least a little interested. The information is presented to them upfront to take a properly thought-of decision before they purchase. 
Better UX for better conversion rates
The Google Shopping user experience is much more streamlined than the regular search ads. Whenever a person clicks on the shopping ad, they are taken straight to the product page. They don't have to click and navigate their way around the website for what they're looking for. The process is made simpler, and this can help in the overall streamline of the conversion process. 
By being taken straight to the product page, users can enjoy lesser clicks to the point of sale, which means a lesser chance of them getting annoyed. It leads to better returns despite a higher cost of conversion.
Clear customer intent
The customer intent is one of the significant benefits and features on why Google Shopping is super beneficial. These ads are designed to come up only when someone's query indicates what they want to purchase. Instead of paying for broad clicks at the top of the funnel ensures that you're paying for those people who are ready with their money to purchase. The intent factor lifts these ads above the search ads a little bit more. 
Once this is paired with how these ads are shown and where they're going afterward, you've got the content for a great ROI!
Shopping ads drive 76% of retail search ad spend, and generate 85% of all clicks on Google Ads or Google Shopping campaigns.
Tailoring goals down to a product
Instead of campaigns that specifically group keywords together, the Google Shopping campaigns can easily group certain products. The entire inventory is available; you can easily advertise and place a structure that suits you best. 
There are plenty of eCommerce stores that don't have just one blanket goal for all the products. The sales targets and profit margins can also vary between the product type or between the individual products. 

The best thing about these Shopping campaigns is that products can be grouped together regarding the sales goals, which can be optimized. It can give you control over what you're giving them money for and provides quality traffic rather than quantity. 
You can see revenue that results from better traffic and product. This can ensure better ROAS and far valuable insights from the customer's behavior. 
Google shopping ads are a great way to catch people with one objective: to purchase something. If you have an online store, you can showcase the product in front of them and give them the power to decide based on that.
Creating a Profitable Shopping Ad
To create campaigns for these shopping ads is to advertise the products on the Google platform. The Shopping campaigns must make it simpler to organize, manage and also overall optimize the shopping ads. 
These robust benchmarking and reporting tools can help in better optimization and monitoring of the campaign performance.
The product data is also an integral factor in creating and also managing the Shopping campaigns. Once the product data becomes accessible, these campaigns make it easier to organize and browse product inventory to make better decisions. Here are some ways to improve your shopping campaigns:
Create the listings and photos up to the mark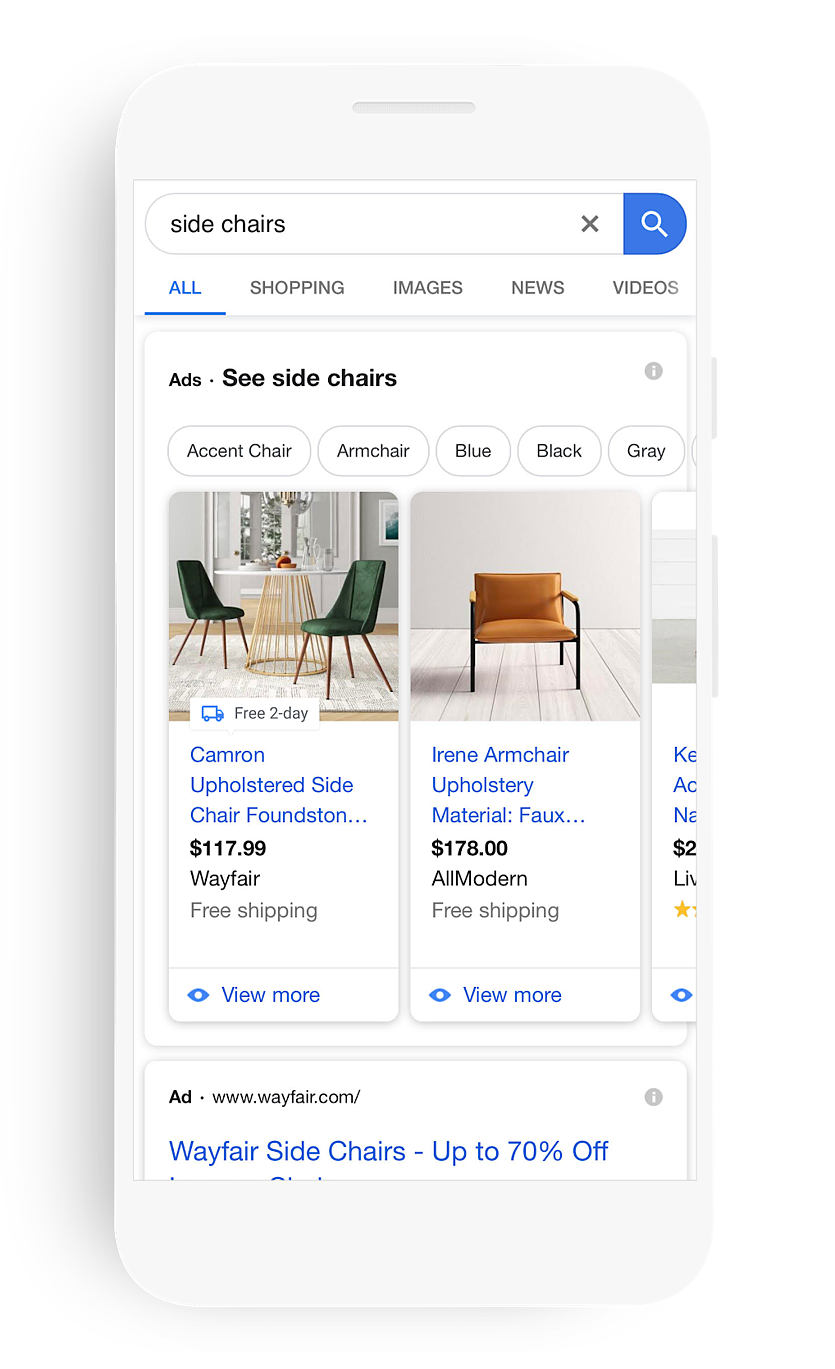 One of the first and foremost things to consider and take care of is the product photos. These are what your customer is exposed to at first, and they have to fall within the requirements that Google looks for. 
By this, we mean that the images have to be within the required dimensions for the ads, and Google lays these out on the site itself. Once you're able to satisfy those demands, the photos can make it easier for you to go forth and advertise.
The listings also need to have all the information that can make them attractive for the customers. This is important because it needs to be up to the mark and also contain relatable and relevant information all in one place.
Make sure the store is as per the Google Shopping ads policies
Whatever ads you put up all need to properly align with the rules and requirements that Google's Policies hold. The ads can also be created so that they don't fall foul of the various conditions that Google has created to ensure these ads' smooth operation. 
The store needs to effectively satisfy the necessary store policies to show these Google ads to the right audience without causing any issues. Just go through the rules docket once, and it'll become easier for you to start advertising online.
Create and set up the Merchant Center Account  
This is an important step because it is through this account that you'll run your entire business on the Google platform. You'll require a Google Account to sign up for the Merchant Center. In case you don't have a Google account, go to accounts.google.com and create one.
Once you're prepared, you can head over to the Merchant Center and also sign in with the Google Account. 
Create your product feeds
The feed can be defined as a file that contains a product list that you wish to advertise via the Merchant Center. Whenever you add the products, you can assign specific attributes to them, and the product feeds will use the same to group these products together. 
Once the feed is created, it can be used across as many Merchant Center features as needed. There are various types of feeds that are present in the Merchant Center.
These feed types will also depend on what your needs are as a retailer. The attributes used to describe these products to the Merchant Center are the same across the various feed types.
Mobile devices generate 65% of clicks on paid Google search results.
Link the MCA to Google Ads
This is another crucial addition that you need to make for your Google account and the most important one pertaining to running a store. When you plan to showcase your products on the Google platform, you need to have an account properly connected. 
By linking your Merchant Center account with the central Google Ads console, you'll be able to gain all the necessary tools to run your store. Whenever you approve a link between the Merchant Center and Google ads, you can allow the product data to seamlessly flow from the Center to the Google ads for all your ad campaigns. 
Depending on the product data type you submit, you can create effective Shopping campaigns to advertise products, use certain dynamic remarketing to drive the Display campaigns, and do so much more. 
Only if you have a Merchant Center account can you link the same. There are new account link requests that appear in the Google Ads account on the "Linked accounts" page, which is also located right at the Setup part of the Tools and Settings menu that drops down.
Campaign settings
Country of sale: You need to choose the country where you want your products to be shipped and sold. Your ads are only shown to people in the country that you've selected. To advertise, your product data in the MCA is available for those countries that you choose. If there's no product data available, you won't be able to advertise.
Further, the country of sale cannot be changed once the campaign is created. You've to adjust this setting to limit the total number of products on the campaign.
Inventory Filter: This is one setting that needs to be adjusted if you wish to limit your campaigns' overall product number. You need to choose criteria that the product meets to become advertised. The products that match these requirements alone are added to the campaign. This can be changed even after the campaign is created as well.
Bidding: This is something that you wish which can also be adjusted once the campaign is created. Make sure you've taken account of the finances before proceeding with this step.
In the United States alone, e-commerce sales are expected to surpass $740 billion by 2023.
Daily budget: The daily budget needs to be selected based on what you're willing to spend on a campaign.
Campaign Priority: This setting only needs to be adjusted if you're advertising one product in various campaigns for one country of sale. The priority helps determine the budget that will be used whenever there is an overlap in the campaigns.
Networks and devices: The shopping campaigns can help drive traffic to the products and increase conversions. In case you'd like to limit where these ads appear, you've to uncheck boxes for networks that you'd like to exclude. Ads can appear on any device, including mobile and computers. This can be changed based on the campaign and once it is created.
Locations and Local inventory ads: This setting can limit where these ads are shown in specific locations. This can be changed once the campaign is created. The local inventory ads need to be adjusted if the shopping campaign must include those sold in the local stores. If you'd like to advertise local products, you can submit local data to the Merchant Center.
Once you take care of these factors, the Google Shopping ads are now live!

Top Strategies for More Sales from Google shopping ads
A few strategies can be followed to increase your sales and make sure the ads are running more efficiently. These include:
Optimizing product titles
The product titles need to be efficiently optimized so they can be easily searched and discovered on the Google platform with ease. Make sure the product titles contain all the necessary details with regards to showcasing your brand and the products you're selling, and you'll be good to go.
Optimize the descriptions and categories
The product feed descriptions also need to contain a synopsis of the relevant information along with the product titles. This summary needs to have the necessary keywords and other information that a customer would like to know about before going forth and purchasing from your brand.
Ensure that the categories are also corrected, and the products are not shown in other categories so that there is no confusion and a loss of money if it's not done in the right way.
Optimizing the images
Your product images are another essential addition to the mix, and they need to look inviting. The customer must know that the product they are looking to purchase is the same as the image, so ensure that the editing is precise and well-aligned.  
Use extensions
With Google Merchant Promotions, you can also enjoy the opportunity to showcase certain offers along with the Shopping ads. These extensions make it easier to distinguish products from other ones with certain goods, which gives clients an added incentive to visit sites. 
Reviews and Ratings
If you need your products to sell, fetching good reviews and high ratings is extremely important. New customers need to know that the product they are looking to purchase is of good quality, and one of the best ways to do that is by showcasing product reviews and ratings. Ensure that you have this highlighted on the page, and it'll make your job so much easier.
The ratings and reviews need to be in line with the products, so don't share fake reviews because it will have an adverse impact on your brand perception.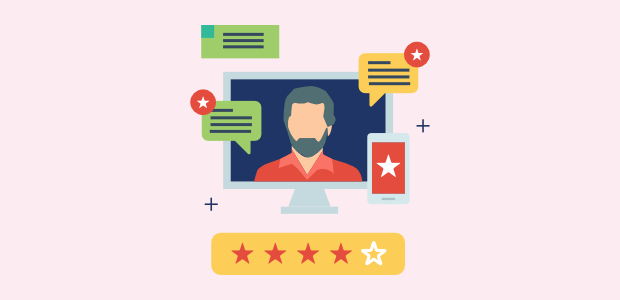 Use negative keywords the right way
The negative keywords strategy is another important requirement for anyone who wants to showcase their brand but only with the right ones. The negative keywords will ensure that your products are not shown whenever a customer types in specific keywords which stray away from the ones that your brand needs to be known for.
Adjust based on the performance of devices
Where your customers are buying your products is also essential, and you need to ensure that you've optimized your bids accordingly. Take a look at where they're shopping for your brand online and with this, make it easier for you to go forth and create campaigns. 
These campaigns need to be optimized so that you don't face any issues regarding where your customers are shopping from.
Optimize by geolocation
Certain products can only be sold in particular demographics and locations. If yours is one, make sure that your ads are also effectively optimized by geolocation to avoid targeting an audience in the wrong geography! 
High-performance products can have in
When you have products that are performing well, you need to capitalize on getting the most out of them. Make sure that you increase the bids for your products that are performing well, and you'll be able to gain more footfalls once they get optimized.
Remarketing Lists
For your shopping ads, you can increase the number of people purchasing if you remarket to them. They might have dropped off for many reasons, but once you're able to showcase the product again to them at a time when it is more convenient, you increase your chances of selling.
Ecommerce accounts for close to 11% of all retail sales in the U.S.
Once you implement the above techniques, you'll begin seeing a change in how your brand is being perceived online. Follow the necessary steps and ensure that you're always in line with the Google Shopping ads requirements, and you'll soon begin making a lot of revenue online. 
Creating an approved Google Shopping Feed & running profitable Google Ads is a multi-step process. AdNabu's app helps you to easily create a Google Shopping feed & run profitable Google shopping Ads. All changes from your Shopify store are fetched and updated automatically in the feed.